>> August 9, 2009
Last week, when I heard that there were American hikers under Iranian custody, I got nervous. I'm still nervous. Isn't it sad the way that in these big International problems, somehow private citizens always get caught in the middle? I vote for former President Bill Clinton to go over and talk to Ahmadinejad about these hikers and getting them released. It worked with Kim Jong Il right? Speaking of which, the footage of Laura Ling and Euna Lee coming home, and seeing their families after so long, made me sob. Little Hana Lee would not let go of her mom. Good job Bill! I knew when I heard he was going to North Korea that he would be bringing the journalists home. (If you don't know what I'm talking about, click here for a slide show).

The following is the Huffington Post's article, released this morning, that the United States' government has confirmed that Iran does have the American's in custody. As if Iran/American relations couldn't get any more complicated..

.. Here's sending good vibes and prayers to Shane Bauer, Sarah Shourd and Joshua Fattal.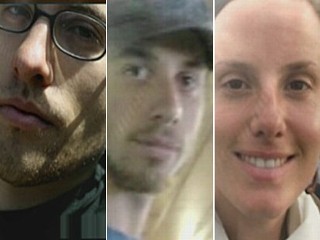 The Americans strayed into Iran while hiking in the mountains of Kurdish territory in neighboring Iraq.

President Barack Obama's national security adviser, James Jones, said that as of Sunday morning, the Iranian government has confirmed it has them in custody.

U.S. and Kurdish officials say the Americans accidentally entered Iran across the poorly marked border on July 31.

Reports from Iran have said Tehran was looking into whether the three were spying for the United States. But until Jones' comment, there had not been any official Iranian government confirmation that the three were in custody.

Jones spoke on NBC's "Meet the Press."