>> June 15, 2009
As soon as the Iranians started voting on Friday, I was anxious, you could feel that this election, wasn't like any other. And, folks, it hasn't been. It has been hard to even put a blog post together, because the different news reports were bringing in conflicting information, and new reports were coming in all the time. At first, many thought Moussavi was being held under house arrest, but this morning (picture above) he arrived among his supporters. I was excited!

I really believe the Elections were rigged. I do. When Christiane Amanpour from CNN was doing some "unofficial election polls" last week, it seemed obvious that Moussavi had won, and that Ahmadinejad was defeated. Then, they both announced their victories? And then no one saw Moussavi the entire weekend. Today, it is being reported that he has met with Supreme Leader, Ayatollah Ali Khamenei, and that the Ayatollah ordered an investigation into the fraud claims. But we all know the Ayatollah's record, so I'll believe it when I see it.

Ashton Kutcher (aplusk) through Twitter has compared it to when Al Gore won against George Bush, and the country went a little nuts. I think that that is true, and a good way for us Americans to identify with the problem. (I was one of those people going nuts in 2000). But , I know it sounds trisk but our country is free.. their country is a country where the Iranian bloggers sites are shut down for days at a time, and where during the elections cell phone use was cut off, the supporters of Moussavi (and the other challengers) were not able to use general means for their campaigns, they could not use TV ads and such, instead they used a cell phone network, a-la-President Obama's campaign. Twitter and Facebook also have been down, and then put back up. So yes, Ashton, its similiar, but at least Mr. Gore had the right to fight for his "hanging chads" but does Mr. Moussavi have that same right? Without being killed? I sure hope so..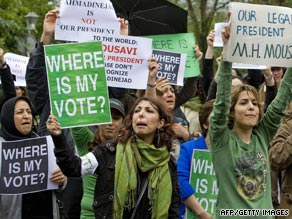 This is from Sunday's New York Times..

She was in tears like many women on the streets of Iran's battered capital. "Throw away your pen and paper and come to our aid," she said, pointing to my notebook. "There is no freedom here."
Ugh. So sad.
I've been following the Huffington Posts Iran Updates blog this weekend, click
here
to see the information as it comes in.
It felt ironically strange to be reading my new book,
Reading Lolita in Tehran
, which tells a story in post(crazy)revolution Iran, and to be watching CNN's footage about the protests this weekend.